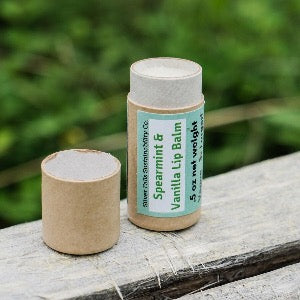 Vegan Lip Balm
Vegan Lip Balm
Handmade by Silver Falls Sustainability Co. 
This vegan lip balm is made with only the finest natural ingredients. It protects and nourishes your lips, while keeping harsh chemicals out of your body and plastic out of the environment.
The net weight of .5 oz is over 3x more than other lip balms! Plus, it comes in a zero waste, 100% compostable kraftboard container. Once you try it, you'll never go back!

Ingredients
Organic Coconut Oil, Sweet Almond Oil, Candellila Wax, Avocado Oil, Raw Shea Butter, Natural Vanilla Flavor, Essential Oils