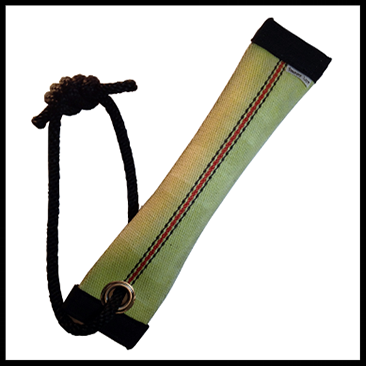 Tug N' Fetch Dog Toy
Dog Toy, 12" Tug N' Fetch
Handmade by Puppy Luv Pet
12 inch single handle tug and fetch toy handmade in the USA from 2.5" wide recycled fire hose. 
This fire hose has retired from the fire service and wants to have some fun with you and your four-legged friend.

A few notes on the transformation from tool to toy:
- Please remember, this is USED fire hose with a long history and some battle scars. It has been professionally cleaned without solvents or chemicals to ensure your pet's health and safety. However, there will likely still be some fading and/or discoloration.

- This fire hose toy is significantly stronger than average rope toys, but of course, it's not indestructible. This shouldn't be used as a chew toy... it won't stand up!

- These toys are stuffed with fabric, rather than filling because it is safer, but it's still best that your pups don't swallow anything other than food, treats and water. Please play with your pup!