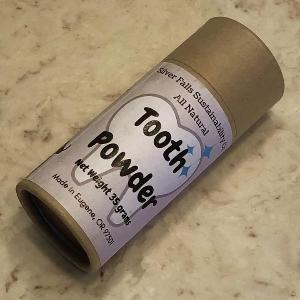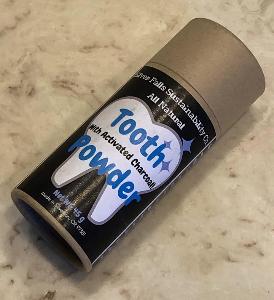 Tooth Powder
Tooth Powder
Handmade by
Silver Falls Sustainability Co. 
Our all natural, plastic free tooth powder will leave your mouth happy and the planet smiling! Made with high quality ingredients, switching from toothpaste to toothpowder is easy! Dip a lightly moistened brush into the powder and brush like normal. Your teeth will thank you, and you'll help keep one more piece of plastic from entering the waste stream.

If you order the Activated Charcoal, get ready for a unique experience! The activated charcoal will be very black, but will leave your pearly whites shining!
45 grams kraftboard tube. This tooth powder will last a VERY LONG TIME, between 150-200 uses depending on how much powder you use.

Please note! Our toothpowder contains xylitol, which can be harmful to pets. Please take care to store your tooth powder properly. Our tooth powders do not have fluoride added. Please consult with your dentist.

Ingredients
Calcium Bentonite Clay, Calcium Carbonate, Baking Soda, Xylitol, Activated Charcoal (with activated charcoal tooth powder), Spearmint Essential Oil.