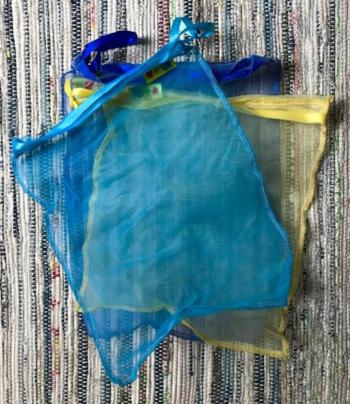 Produce Bags
  Produce bags! "Stop using plastic bags!" 
Handmade by Love for Earth      
3 bags total, 11x14, 12x10, 6x8. Variety of colors. Please note in comment which colors you prefer or don't prefer. I will do my best. 
Dual layered nylon netting, easy-care, OVERLOCKED seams for the strongest finish, overlocked seams do NOT fray or loosen with time, look at any t-shirt you've had for years or ask anyone that uses a serger and sewing machine...soft and fluid like plastic, featherweight, not the stiff stuff...slight stretch. These bags are a perfect way to go green and say bye BYE to the wasteful plastic bags that are piling up and cluttering our environment. Free tote to carry them in!

Easy care, wash in the sink, cold soapy water if needed, rinse and lay out to dry.