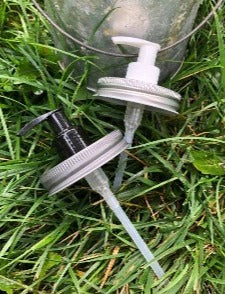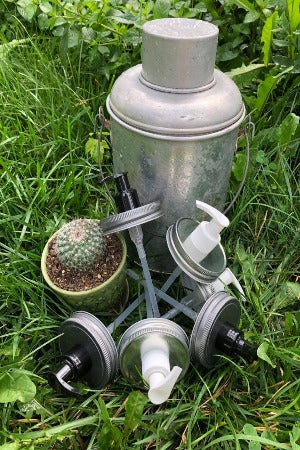 Mason Jar Soap Pump
Mason Jar Soap Pump
Handmade by Filthy & Co.
There's been a surge in the popularity of canning causing a nationwide shortage of all things "canning". What's next? There's going to be an abundance of empty jars and we think that your customers are going to be looking for new and creative ways to use them.  Why not pair the need for hand washing with the need to do something "with all those empty jars"?  Stock up on our USA made mason jar soap dispenser lids. They are a dream to ship - extremely lightweight and durable.
This one piece, antique pewter (gray with an aged effect and a matte finish) metal lid is paired with a black plastic pump and has a 6" tube that will reach to the bottom of a pint size jar.  Snip with scissors to fit your jar. 
This lid is for a regular mouth jar.  Not sure if you have a regular or wide mouth mason jar? Just measure across the top rim of the jar (not the lid).  If your jar measures roughly 2 ½ inches at the top you have a regular jar.  If your jar measures roughly 3 ¼ inches you have a wide mouth jar.
These dispenser lids come fully assembled and ready to go!
Will Pump House lids rust? Our lids are coated on the top and most of them are also coated on the underside (the weathered bronze and antique pewter lids are not coated on the underside).  These coatings will help to prevent rust as water drips on top of the lid.  However, we do drill through these coatings when we cut the hole for the pump.  The possibility of rust in this area of the lid does exist. If rust occurs along the top rim of the hole it shouldn't be visible from the top because the pump covers the hole.  Depending on what you have in your jars it may or may not cause rust around the hole on the underside. If you are worried about rust becoming an issue on the underside of the lid, you can add a dab of bathtub caulk around the hole before using. Humid climates will cause rust to occur faster.