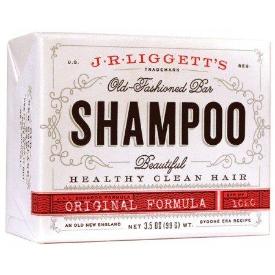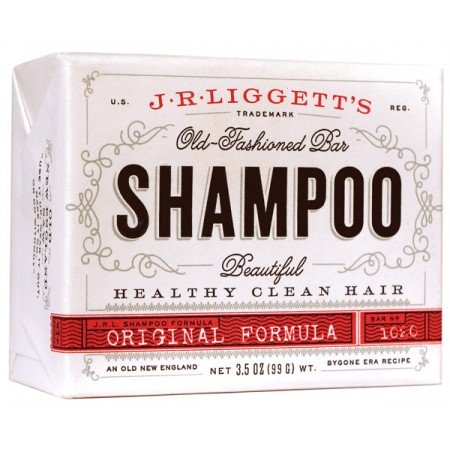 J. R. Liggett's Shampoo Bar
Shampoo Bar, J. R. Liggett's 
The formula for this incredible and unique bar of shampoo was discovered loosely placed in an old New England Cookbook many years ago by J.R.LIGGETT. This is the cornerstone of our fine line of bar shampoos that over the years has proven itself over and over to a countless number of loyal users.

This is attested to by the number of years it has been on the market. Its 100% vegetable oil formulation lathers quickly, cleans well, and rinses out easily, leaving you with healthy, beautiful, and clean hair. It will not strip the natural oils from your hair (there are no detergents). For this reason, most people do not need a conditioner! But if you do, a apple vinegar rinse will fix it! 
Saponified Olive Oil, Coconut Oil, Castor Oil, Sunflower Oil, RSPO Palm Kernel Oil
*3.5 oz Bar
*Fragrance - Rose Essential Oil
  J.R.LIGGETT'S Original Formula is made from...
Olive Oil
 The remarkable benefits of olive oil have been known for thousands of years. It is a natural conditioner that makes hair shiny and soft, and is loaded with antioxidants to keep your scalp healthy. Olive oil fights hair loss by helping control dandruff, fungi, and bacteria. It prevents hair follicle shafts from narrowing by preventing DHT hormone production, letting you hold onto your hair longer. It can also improve blood circulation to the scalp and stimulate hair follicles, giving you thicker, healthier strands.
Coconut Oil
  The main component behind our luxurious lather, coconut oil works wonders on the hair and scalp. The fats present in coconut oil retain the moisture content of the skin, and help eliminate further losses. The antiviral, antibacterial, and antifungal properties found within protect from microbial infections than can enter through the pores. Coconut oil also contains Vitamin E, and is fantastic with skin disorders such as acne, psoriasis, and eczema.

Castor Oil
  Native to Africa and India, this oil is well known for its anti-inflammatory and antibacterial properties. It accelerates blood flow to the scalp, thus increasing hair growth. It is very nourishing on the scalp and helps strengthen the roots with essential nutrients.

Sunflower Oil
  Sunflower oil is packed with essential vitamins, nutrients and minerals that have been shown to stimulate natural hair growth and prevent early hair loss. It also has wonderful moisturizing and conditioning properties and aids in protecting your hair from damaging ultraviolet light.

Palm Kernel Oil
  Rich in vitamins A and K, this oil is excellent at keeping the skin moist and wrinkle free. It reduces skin inflammation and helps in curing and preventing several skin disorders such as acne, eczema and psoriasis. In our shampoos, it assists the coconut oil in producing a rich lather.
 *J.R.LIGGETT'S entirely supports organic palm kernel oil programs (RSPO), which adhere to strict environmental sustainability programs. As is our standard, the harvester and the manufacturer of the organic palm kernel oil we offer adheres to highly detailed sustainable harvesting protocols with oversight from state and third party environmental programs including EcoSocial, with assistance of the RSPO.