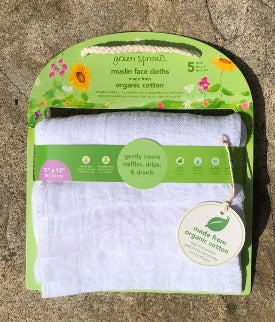 Baby Face Cloths, Organic cotton
Baby Face Cloths, organic muslin cotton, 5 Pack
Made by Green Sprouts
Gently cleans sniffles, drips, drools, and more—A soft layer of muslin organic cotton for use as a multi-purpose reusable wipe for baby's face, hands, washcloth, or diaper changes. Multiple colors available for easy organization by use.

100% organic cotton muslin—Our face cloths are hypoallergenic, made from 100% organic cotton muslin, and processed without harsh chemicals such as formaldehyde or azo dyes, to ensure purity and safety for baby's delicate skin and reduce our environmental impact.

Super soft and softer with every wash—These finely woven and lightweight organic muslin face cloths are machine washable and grow softer with every wash.

For multi-purpose use—Our cleansing cloths are handy for multi-purpose use for baby, makeup removal, household cleaning, and more.